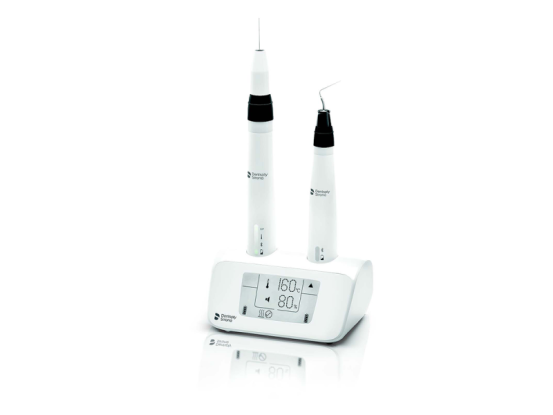 Gutta-Smart™ Cordless Obturation Device
Product code : A43125
Artikelnr leverancier : B00GSIQ000KIT
A43125
Optimize your obturation with the complete, low-temperature solution

Via de knop "toevoegen aan verlanglijst" kan u vrijblijvend contact met ons opnemen voor verdere informatie.
Gutta-Smart™ Cordless Obturation Device
Product beschrijving
Inhoud van de verpakking:
1 Flow Handpiece
1 Pack Handpiece
1 Base Station
2 Gutta-Percha Cartridges
3 Electric Heat Pluggers
1 Heating Element
1 Bending Tool
1 Power Adapter + 4 Universal Plugs
2 Cleaning Caps

Optimize your obturation with the complete, low-temperature solution
Fill canals conveniently and reliably with Gutta-SmartTM cordless obturation device and Conform FitTM gutta-percha master cones. Designed to work together, they feature the same low-temperature flow characteristics and radiopacity for a total warm vertical obturation solution.
The efficiency of a total solution. Paired with the enhanced fit of Conform Fit™ master cones, Gutta-Smart™ provides the efficiency you expect in a complete obturation solution.
Patient safety. You can feel confident knowing the unique formula is not made with natural rubber latex.
Gutta-percha with low-temperature flow. In both Conform Fit™ master cones and Gutta-Smart™ cartridges, the gutta-percha formula flows at a lower temperature, requiring less heat from the handpieces.
The right fit you can feel. Conform Fit™ master cones provide a snug apical fit for accurate tug-back, while the cordless Gutta-Smart™ handpieces provide precise control and excellent tactile feedback.
All-day power*. A single charge gives you the power to complete an entire day's work.
Durable, cordless performance. Well-balanced, lightweight and comfortable to use, both handpieces are cordless for freedom of movement.
Gutta-Smart™ Cordless Obturation Device
Product specificaties
Gutta-Smart™ Cordless Obturation Device
Product documenten
Notify